2X weekly prophylactic dosing can help align factor levels with the times you are physically active1
Talk to your doctor about which infusion days and dosage may be recommended for you. Your doctor will determine your dosage based on your age, weight, and bleeding pattern.

Prophylactic efficacy of RIXUBIS was studied in 23 previously treated patients (PTPs) between 1.8 and 11.8 years of age with severe or moderately severe hemophilia B for a mean treatment duration of 7.7 months.1,2
Routine prophylactic treatment helped patients achieve a low annualized bleed rate (ABR)1
The median ABR in patients <12 years of age (N=23)
1,2
Total Bleeds
(range: 0-10.8)
Spontaneous Bleeds
Median ABR (range: 0.0-2.0)
Joint Bleeds
Median ABR (range: 0.0-7.2)
Many patients (9 out of 23) taking RIXUBIS® did not bleed over the course of the clinical study1
In this study, many patients experienced 0 bleeds with twice-weekly RIXUBIS prophylaxis.1,2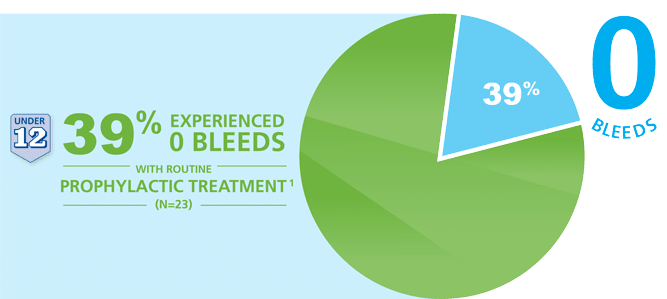 Most bleeds (23 out of 26) were resolved with 1 to 2 infusions1

With RIXUBIS, 96.2% of bleeding episodes were rated as having excellent or good bleed resolution.*1
*Excellent is defined as full relief of pain and cessation of objective signs of bleeding after a single infusion; no additional infusion is required for the control of bleeding; Good is defined as definite pain relief and/or improvement in signs of bleeding after a single infusion; possibly requires more than one infusion for complete resolution.
Selected Important Risk Information for RIXUBIS [Coagulation Factor IX (Recombinant)]
Who should not use RIXUBIS?
You should not use RIXUBIS if you
are allergic to hamsters
are allergic to any ingredients in RIXUBIS
Tell your healthcare provider if you are pregnant or breastfeeding because RIXUBIS may not be right for you.
What should I tell my healthcare provider before using RIXUBIS?
You should tell your healthcare provider if you
have or have had any medical problems
take any medicines, including prescription and non-prescription medicines, such as over-the-counter medicines, supplements or herbal remedies
have any allergies, including allergies to hamsters
are breastfeeding. It is not known if RIXUBIS passes into your milk and if it can harm your baby
are pregnant or planning to become pregnant. It is not known if RIXUBIS may harm your unborn baby
have been told that you have inhibitors to factor IX (because RIXUBIS may not work for you)
The clinical trial demonstrated that recovery levels were consistent over time across all patient groups1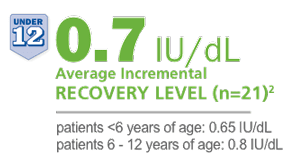 Recovery levels
WHAT DOES RECOVERY MEAN?
Recovery is the name for the relative amount of factor IX in the bloodstream immediately after infusing. An average recovery is about 50%.3 Factor levels gradually decrease following infusion. Recovery is different for every person and may change for you over time. It can be influenced by age and weight and differs based on the factor product used.4,5
Talk to your doctor about what recovery levels mean for you.