RIXUBIS® Safety Profile from the Clinical Trials
In a combined study, 99 male previously treated patients (PTPs) received a total of 14,018 infusions of RIXUBIS and were treated for a median of 156 exposure days, with a median of 163 infusions.1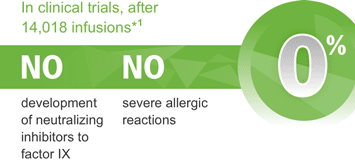 *Low-titer, non-neutralizing antibodies against factor IX were observed in 21 (21.2%) subjects at one or more time points. No clinical adverse findings were observed in any of these 21 subjects.
Selected Important Risk Information for RIXUBIS [Coagulation Factor IX (Recombinant)]
What are the possible side effects of RIXUBIS? (continued)
Your body may form inhibitors to factor IX. An inhibitor is part of the body's defense system. If you form inhibitors, it may stop RIXUBIS from working properly. Consult with your healthcare provider to make sure you are carefully monitored with blood tests for development of inhibitors to factor IX.
RIXUBIS® is manufactured using a validated 2-step virus inactivation and removal process1

Developed by Takeda
Takeda has over 70 years of dedicated history to the hematology and rare disorders communities.11
RIXUBIS is a third-generation recombinant factor IX, produced by DNA technology. No human or animal proteins are added during any stage of manufacturing or formulation of RIXUBIS.1,6,7