Meet Jerry
Sales and Marketing rep, CO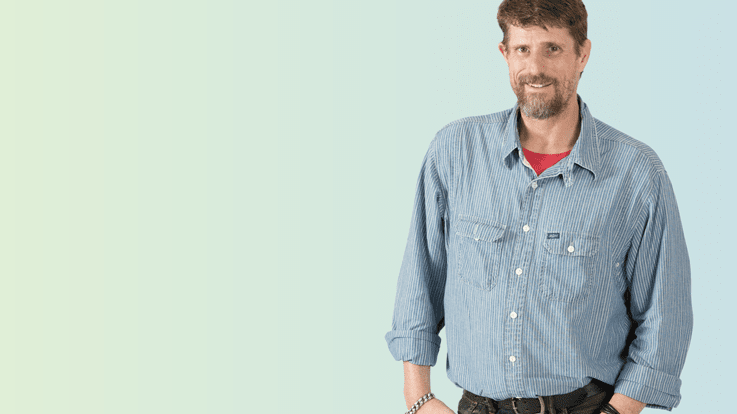 I keep doses with me when traveling, along with details of how to treat my condition and who to contact for instructions if needed."
Tell us a little about yourself.
I'm Jerry. I am 50 years old, and I live on a river in the mountains of Durango, Colorado, near the Four Corners region—where Colorado, New Mexico, Arizona, and Utah intersect.
I live with my 2 adopted children, 6-year-old Teigyn and 9-year-old Tyger, and my mother-in-law and father-in-law, Mary and Wayne. I have 2 older children, Alec and Ian, in their twenties, and they live on their own now.
I'm a sales and marketing representative for a plumbing and heating company. In my spare time, I restore old cars. I have a '67 Plymouth GTX and a '55 Beck Porsche 550 Spyder that I track and show.
I was born in Los Angeles and grew up in Huntington Beach, California. I am the first in my family to be diagnosed with hemophilia B.
...More
When were you diagnosed with hemophilia B?
The doctors knew that there was an issue after the heel prick that they did when a baby was born at the time. Then, as an infant, I had a lot of bruising, and people thought my mother was abusing me. When I was 2 years old, the doctor did some testing and discovered that I have hemophilia and a treatment plan was put in place.
...More
Tell us about your treatment journey.
More than 40 years ago, my treatment required a lot of whole blood transfusions. Before I started school, there were times when I would spend entire weeks at the hospital.
When I was 5 years old, my younger brother was born. Because of me, he was tested at birth and diagnosed with hemophilia B as well. It was fortunate for him that factor was available and he would not have to spend as much time in the hospital as I did. Also, my parents were then skilled and knew what to do in order to help us be active and happy.
When factor IX concentrate became available, my brother and I were among the first kids to go on a home infusion program. Our parents were taught how to prepare and infuse factor. Then, when my brother or I had a bleed, our parents would give us injections of factor. And so then, when I was 8 or 10 years old, I was taught how to do infusions myself.
At about that time, my third brother was born and 18 months later my fourth brother was born, and neither of them had hemophilia. In 1993, my younger brother who had hemophilia passed away after being infected with HIV.
...More
What was growing up with hemophilia B like for you?
My parents were not overly protective. They didn't make me wear a helmet or pads all the time. They let me have a bit of a rough and tumble childhood. I learned from consequences very quickly that I was different and had to do things with more mature thinking. But did I? Well frankly no, and I have had to pay for those choices. With the knowledge that I might have to go to the hospital if I made a bad choice, I still made some bad decisions and frankly knew my limits but sometimes surpassed those limits.
It was very rare that my parents would keep me out of school for a bleed. I went to school on crutches quite a bit and even had to wear leather ankle braces with metal stays at times. I hated those things. In school, teachers watched me closely but did not stop me from playing. Other kids at school mostly treated me like everyone else but sometimes teased me when I was on crutches or had a bleed. I earned their respect by joining the swim team, playing water polo, and even surfing. And what boy in Southern California could stay off of the skateboard? I know I should not have done that! But that is the way it goes sometimes and I learned my limits quickly.
When I was a kid, I didn't limit myself as much as I should have. I wanted to feel normal like other kids and didn't want hemophilia to dictate my life; but I knew that hemophilia would limit what I could do, so I would skateboard or snow ski and tell myself I would be okay as long as I didn't try to do any tricks or anything and wore a helmet.
But I pushed myself more than I should have. I now realize how important it is for me to respect and not to exceed the limits of my body as I have a new knee now.
...More
How did growing up with hemophilia B influence you as an adult?
After finishing High School I went to college and received my Water Safety Instructor's Certification along with Red Cross training. This enabled me to work as a Life Guard and even a swimming instructor for a time. It was very good to learn how to tune my body up and stay in shape at that time. This was when I really learned the importance of keeping myself in shape and trying to live an active life by taking care of myself.
I first attended hemophilia camp when I was around 14 years old so I already knew how to self-infuse. But camp was fun, and I went for 2 or 3 years. The camp was called Camp Blood Brothers. I was even in a commercial they did for fundraising.
I moved to Seattle in my early twenties after I got married in Costa Mesa, California. In Seattle, I participated as a counselor and a guest speaker in a hemophilia camp run by the Puget Sound Blood Center. It felt great for me to be able to give back to hemophilia camp as a counselor.
Unfortunately, while at camp I met some kids whose families had convinced them that hemophilia made them too fragile to do anything. I tried to encourage those kids. I think that being scared of everything is a terrible way to live life. My wife and I really loved being with the kids at camp for a week or even just a weekend.
...More
What led you to RIXUBIS?
I used to have a bleed every 1-2 weeks. I have memories of times when I would get a bleed while sitting and watching a movie. If the bleed was in my leg, it would swell up to the point where I wouldn't be able to stand up and leave by the time the movie was over.
My doctor talked to me about RIXUBIS. I'm now on prophylactic treatment with RIXUBIS. I infuse twice a week.
I used to keep a journal to help me remember to infuse, but infusing has become so automatic, I rarely forget and the treatment center is always there to remind me. Prophylactic treatment seems to have helped decrease my bleeds. I like RIXUBIS because it seems to work for me. I have had no problems mixing it and I like the small volume of the actual infusion.
I like that I can travel with my RIXUBIS, because hemophilia is a rare condition and I like thinking that if I end up in an ER I will have my factor with me. If an accident happens, the chances of being in a hospital that is familiar with hemophilia is rare. I keep my treatment instructions on my phone's special app for emergencies. And I keep doses with me when traveling, along with details of how to treat my condition and who to contact for instructions if needed.
...More
What do you do to stay healthy?
I go to my hemophilia treatment center, or HTC, once a year. The HTC has a really good hematology/oncology doctor, but I live in a remote location. Because it takes me 4 or 5 hours to drive to a clinic, my local doctor draws my blood and sends it to the HTC for testing, and I see her once a month. She reviews my meds, any test results, asks if I've had any unusual bleeds, checks my joints, and all that fun stuff to make sure that everything is okay. When I was younger this was only an annual trip but as I am older and choose to live in the mountains of SW Colorado I want to make sure that I am cared for.
I try to eat well and I get as much exercise as I can, which is a lot considering I have a 6-year-old and a 9-year-old. I try to stay as active as I can. I go camping, fly-fishing, and do whatever I can without overdoing it. Being active makes me feel better.
...More
Are you active in the hemophilia community?
I live in a remote area, so I have not been as active in the hemophilia community as I want to be.
In September, 2013 I had a duodenal aneurysm that made me feel dizzy and caused me to black out at work. By the time the ambulance got to me, I was bleeding from the mouth. I had to be transferred to Denver on a Flight for Life. My family gathered all of the factor that I had on hand to take into the ER, and they stabilized me with it before the flight. Unfortunately, during the flight I started bleeding again, but I was told they couldn't infuse me again due to turbulence. The only thing I could do was try to keep calm and not panic. This is a trick that I learned when younger to keep myself from getting worked up and making a bad situation worse. At some point during the flight, they started to lose me and had to give me CPR.
On arrival at the hospital, they infused blood and rushed me into a catheterization laboratory where I could finally be treated. I became a bit of a hospital celebrity after that. The doctor told me that so few people survive such an event; he was amazed that anyone with hemophilia could and did survive! After this experience, I wanted to become more involved in the hemophilia community and make sure that others are prepared to take care of themselves in a crisis.
Hemophilia certainly places limitations, but I have tried not to let it dictate or define my life. I have friends and family that I treasure, as well as work and leisure activities that I enjoy. I have learned that as long as I respect the limits of my body and intelligently manage my condition, I can have a happy and fulfilling life.
I'm glad I was able to share my story with you. I hope you enjoyed hearing it and that I inspired you to learn more about hemophilia and to get involved with the hemophilia community. Having hemophilia means I have limits, but taking charge of hemophilia means finding those limits, and respecting those limits. If you need help finding yours, please contact me and I will share my experiences. I have learned that it is important to not be afraid to get out and live life.
...More
Not all activities are appropriate for all people. Consult with your healthcare provider to determine which activities are appropriate for you.