Meet Jordan
College Student, OH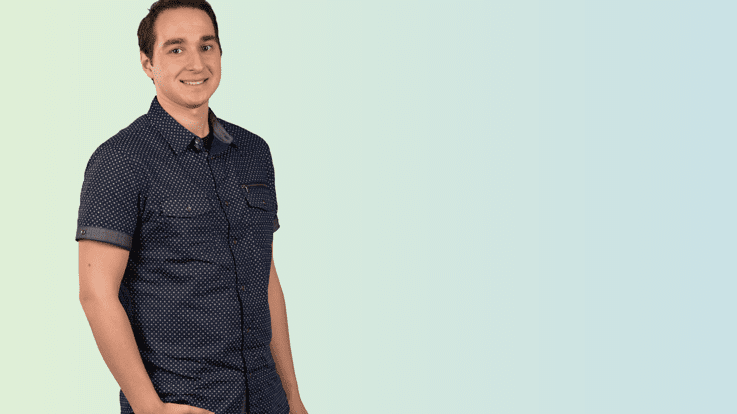 Everyone who grows up with hemophilia has to make a shift from being taken care of by others to taking care of themselves."
Tell us a little about yourself.
I grew up in a small rural town where everyone pretty much knew everyone else. It was a pretty normal childhood, and I was a pretty normal kid. I was—still am—active and adventurous. So to look at me, you'd never guess that I've had hemophilia B since the time I was born. And that's fine by me, because I don't define myself by my hemophilia B. It's a part of me and something that I have to take care of. And there's a lot more I can do in my life than people think. A lot of times, when people hear "hemophilia," they'll get a certain image in their mind of someone who bleeds uncontrollably at the smallest cut, someone who needs to be cradled and protected. That's not me. Yeah, I have limitations, and with those limitations I know there are some things it's not safe for me to do. You'll never see me playing on a professional football team, for example! But I try to stay positive and can honestly say "I've got this." After hearing my story, I hope other people living with hemophilia will realize they've got this too.
...More
What was growing up with hemophilia B like for you?
Like I said earlier, I had a pretty normal childhood. I'm kind of the middle child of a large blended family and the only boy—I have two full sisters, one younger and one older, along with a younger step-sister and a younger half-sister. As the only boy, I also got tested for hemophilia B at birth; my grandfather had it, so my parents knew I was at higher risk and it wasn't a huge surprise when doctors told them I had it too.
My earliest memories of growing up with hemophilia were going in for yearly checkup and getting lots of infusions—it was not a good time. I caught on pretty quickly that I had something other kids my age didn't have. When I was younger, my parents told my teachers and my friends' parents, so I was treated a lot more cautiously. But I really didn't think much of it or worry about it until later in life. I lived in such a small school and community, so everyone knew I had it and all my friends were used to it and didn't treat me any differently.
My family wasn't too protective or strict about anything growing up. But at the same time I played it smart and didn't do too much to endanger myself. I stayed active and enjoyed joining things like the Boy Scouts and the marching band; in high school I was even class president. I really wanted to play football in high school; obviously I knew I couldn't do that with hemophilia, but I didn't let that get me down and found other things to do.
...More
Tell us about your treatment journey.
I learned early on that I couldn't do any of those activities if I wasn't also taking care of my health. Everyone who grows up with hemophilia has to make a shift from being taken care of by others to taking care of themselves. For me, that shift happened at hemophilia camp. I started going to camp around the time I was in 4th grade, and I continued going until about the 8th grade. Attending hemophilia camp was the first time I met other people who knew what it was like to grow up with hemophilia, and I made a lot of friends that I still have today. Hemophilia camp is also where I learned to do my own infusions. I started doing it my first summer there; I don't remember what made me decide to learn it, but one of my counselors, who also had hemophilia, let me practice with him, and that night I did my own. Once I learned to self-infuse, I immediately felt more independent because I didn't need to rely on my mom to do my infusions. At that age, though, I did still need my parents to remind me to do my infusions sometimes!
...More
How did you find out about RIXUBIS?
High school was a time of new beginnings in more ways than one. Along with starting at a new school, I also started a new treatment. But I was still having pretty frequent bleeds, so one summer my doctor talked to us about starting RIXUBIS. I'm not sure how it came up with my doctor; at the time my mom was driving a lot of my treatment decisions. But when she and my doctor explained that I would take it on a regular schedule to help prevent bleeds, it made sense to me. I thought it was a good idea to treat regularly instead of waiting until I had a bleed.
We also talked about how RIXUBIS is an injectable medicine used to replace clotting factor IX that is missing in adults and children with hemophilia B. He told me I'd need to use it regularly. We also discussed how it could cause side effects like allergic reactions, an unusual taste in the mouth, development of neutralizing antibodies, and limb pain. I liked how the twice weekly infusion schedule fit in with my busy life, that was definitely beneficial.
RIXUBIS has had a really positive impact on my life, and the infusions have fit well into my routine. I'm pretty happy about that, but this is really just my experience, and others might have a different experience.
Today, when I go in for my doctor's appointments we talk about any major bleeds or events I've had in the last year. That's when we'll look at making any dose adjustments and come up with a plan for the rest of the year.
I know that I still have hemophilia B, and that I may still have bleeds. That's even more important now that I'm in college. I'm studying mechanical engineering, and when I'm not in school I work full-time in a machine shop. I'm also in the running club and work out. Overall, I have a pretty active lifestyle, so I really have to take care of myself and make sure I'm sticking to the plan my doctor and I came up with together.
...More
What are your plans for the future?
As I look to the future, I'm still not sure what I want to do with my life yet. But I know that wherever I go and whatever I do, I don't want to let hemophilia B hold me back. At the same time, I don't want to lose sight of the fact that I'm part of a whole community of people with hemophilia B. I was pretty active in that community when I was younger, but I'd kind of fallen out of it until recently when I connected with a bunch of people who all had hemophilia B, all of them adults. It was the first time since hemophilia camp that I'd been in a group of people with hemophilia, and it was the first time out of a camp setting. It was kind of eye-opening to see how other people handled things, and it reminded me that this was really a life-long commitment.
Now that I'm a True ID Speaker, I want to let other people know how important that commitment is. Like I said earlier, yes, there are limitations, and you need to know what your limitations are. But, remember to take care of yourself and stick to your treatment plan, and I hope you'll realize you've got this too.
...More
Not all activities are appropriate for all people. Consult with your healthcare provider to determine which activities are appropriate for you.