Meet Martin
Truck driver, new grandpa, TX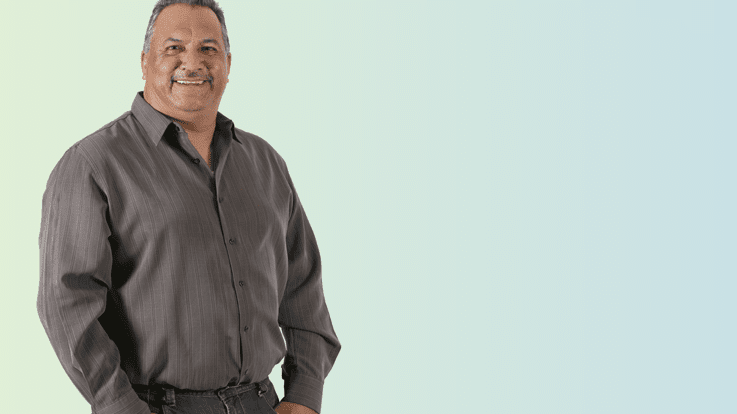 It wasn't until years later that the doctors were able to determine that my brothers and I have hemophilia B, which is not as common as hemophilia A."
Tell us a little about yourself.
My name is Martin. I am 51 years old, and I live in El Paso, Texas. I live with my wife, Angelica, my sons, Fabian and Martin Jr., who are 16 and 14, and our dog, Penny. I also have 2 older daughters. Lisa is 31, and Arcy is 30. Arcy just had a baby, which makes me a grandfather! My granddaughter's name is Lexy. I'm here to tell you about my journey with severe hemophilia B, and how I found my True Identity by getting involved with the hemophilia community and learning how to manage this condition.
I was born in Chihuahua, Mexico, but moved to El Paso when I was 22 years old. In 2005, when I was 41, I moved to Denver, Colorado, which is where all my brothers, sisters, and mother live. I returned to El Paso in 2010 and have been there since. In El Paso, I work as a truck driver. I used to have to drive out of state, but I have been with this company for a long time, and now I am able, for the most part, to stay local.
I am the oldest in my family—I have 4 brothers and 5 sisters. Like me, my brothers all have hemophilia B. A few of my cousins have it as well.
...More
When were you diagnosed with hemophilia B?
Years ago, where we lived in Mexico, the doctor had no idea why my brothers and I had so many bruises, nose and mouth bleeds, and swollen, painful joints. When we saw the doctor, he would just give us vitamins.
Despite not knowing that there was an actual reason for all the bleeds my brothers and I would have, my mother was always very cautious with us. Because we would get hurt so easily, she would limit what activities we were allowed to do as kids to try and keep us from being injured. She was very protective of us.
As a child, I missed a lot of school because of bleeds and bad injuries. It was very normal for me to miss a week or two because of a bad bleed. In high school, I played basketball and volleyball, obviously completely unaware that I had hemophilia and that I should have been so much more careful. It was normal for everyone to get hurt playing, but my injuries would always be so much worse, and I would take longer to recover than the other kids. It was very frustrating.
After I graduated from high school, I completed 2 years of college, but it was very hard to balance school and my hemophilia. I would get overtired and need to miss classes because of bleeds; it was just a very difficult time for me.
I was not diagnosed with hemophilia until I was 16 years old and had surgery on my stomach at a hospital in El Paso. We lived very close to the border, so El Paso had the closest hospital. The doctors in the hospital had more resources than our local doctors in Mexico did at that time, so it was great that we were so close. After my surgery, the bleeding would not stop. That's when the doctors decided to test for hemophilia.
Finally, I had a diagnosis. After I was diagnosed, they tested my brothers as well, since we all had the same issues with bruising and bleeding easily. They, too, were diagnosed with hemophilia. But it wasn't until years later that the doctors were able to determine that my brothers and I have hemophilia B, which is not as common as hemophilia A, and they did not have the resources to test for it.
...More
Tell us about your treatment journey.
When we were living in Mexico, my brothers and I would go back to El Paso for treatment when we had bleeds. At that time, the doctors treated our bleeds with plasma. Even though my hemophilia was not entirely under control, my parents were happy to finally have a diagnosis and a specific treatment. They went so many years without knowing how to treat us and just trying so hard to protect us. We were all thankful to have some clarity on what was really going on.
When factor concentrates became available, staff at the hemophilia center taught my mother how to do my infusions initially. Eventually, I was taught how to infuse and would do infusions myself. Sometimes, one of my cousins who also had hemophilia would help me.
I used to get a lot of nose bleeds. Eventually, my doctor told me that a treatment option had come out and that it might work for me.
Now that I am on RIXUBIS prophylactic treatment, I feel much better. It seems to work for me, and I have fewer bleeds. My ABR has gone down as well.
I really like being on prophylactic treatment, because I have fewer bleeds. The twice-weekly dosing regimen works well for me. I also like that RIXUBIS can be stored in the refrigerator or at room temperature for up to 36 months.
I have always tried to keep my hemophilia a secret. I was afraid that if people knew that I have hemophilia, I might not be able to get and keep a job. I don't want having hemophilia to be viewed as a weakness. My hemophilia is under control, and I don't want other people to see me as having a disadvantage. RIXUBIS works well to control and prevent my bleeds, but I also have learned over the years how to best take care of my body when I have a bleed or know I am doing an activity that is somewhat more strenuous. If I do get a bleed, I know it is very important for me to follow my treatment plan, including resting, applying ice, and elevating the limb, if possible.
I see my hematologist every 3 months. He checks all my joints and pays special attention to my elbows and knees, as those have always been target joints for bleeds. He usually performs a flexibility test. I also get blood work done. My hemophilia is pretty well under control.
...More
What do you do to stay healthy and active?
My hematologist usually tells me to work out a little to build up my muscle strength. I like to ride bikes and go on walks with my family. I also try to eat healthy. In my house, we have started eating more chicken, fish, and vegetables. While I would suggest a healthy diet to anyone, it is especially important for people with hemophilia.
I would also suggest getting involved in the hemophilia community. For me, it has helped greatly. I have learned so much more than I would have on my own. I first got involved because of my mother. When we moved to El Paso, she was seeking out information on how to best take care of me and my brothers. She stayed involved after moving to Denver—she is now on a local committee there.
In my community, a group of us meet every few weeks. We also sometimes go to the education classes provided by our local association. They provide a lot of information regarding treatments and how to manage hemophilia. I have made a lot of friends through this hemophilia group. It is so helpful to be friends with people who understand what I am going through. With them, I don't have to hide my condition for fear of being looked down upon or treated differently. We can all relate and help each other.
My local hemophilia community doesn't only provide support for me; I am able to provide support for other people as well. One time, I was talking to a teenager with hemophilia. He was sad about not having a girlfriend. But he was also avoiding girls because he didn't want to have to tell someone about his hemophilia.
I was able to tell him from personal experience that despite having hemophilia I was able to date, find a woman I love, get married, and have a family. Having hemophilia should not scare away the people who matter.
Angelica, my wife, found out that I had hemophilia when I got a nose bleed on a date. She didn't know anything about hemophilia, but she wanted to learn. Now, Angelica is helpful to me and also loves to be involved. It is a great feeling to be able to share my experiences to give other people hope and encouragement.
...More
Not all activities are appropriate for all people. Consult with your healthcare provider to determine which activities are appropriate for you.