Meet Matt
Husband and father, MI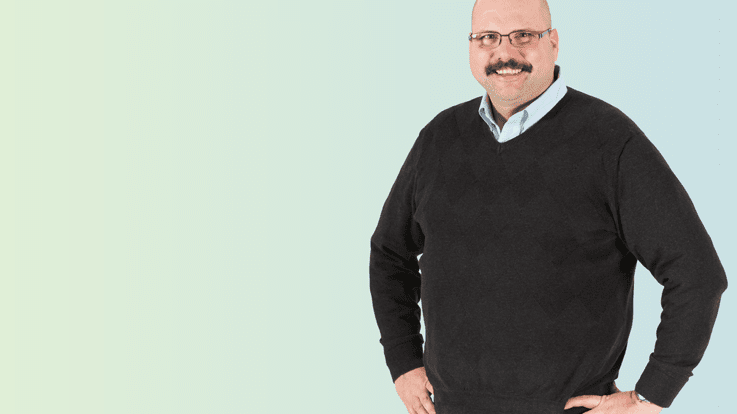 I grew up knowing what it's like to be without access to treatment, and I don't want that to happen to anybody."
Does your family have a history of hemophilia B?
I have a younger brother who has hemophilia B, and my family has a history of hemophilia. I was told I had a cousin with hemophilia who fell off his bicycle and died of a head injury at the age of 9. I also had 2 great uncles who had hemophilia B and died in the 1980s after they became infected with HIV from contaminated factor.
Because of our family history, my mother was told that hemophilia was a possibility when I was born, and the doctors said that hemophilia would show up if I had it.
Hemophilia showed up when I was 18 months old, when my mother was pregnant with my brother. She told me later that I bumped my head in the playpen and bled so much they rushed me to the hospital. The doctors diagnosed my hemophilia, and told us it was likely that my brother would have it too.
...More
What was growing up with hemophilia B like for you?
Before factor concentrates were available, anytime my brother or I had a major bleed, my parents would have to rush us to the emergency room for a treatment. Usually treatment was aspiration followed by RICE—rest, ice, compression, and elevation. Once I had a blood transfusion. Even when factor became available, the closest hospital with factor was a 25-mile trip. When I had a bleed, it could be a day or more before I got an infusion.
Naturally, our parents were cautious and protective. They were reluctant to let us have bicycles. At first, our school didn't allow us to go outside and play with the other kids. I fought and fought until my mom gave in and talked to the school. The school arranged for an aide to watch my brother and me during recess, but we still weren't allowed on the merry-go-round, the swings, or the slide. When the aide wasn't looking, I went down the slide and got in trouble. But that didn't stop me. I still tried to sneak on whenever I could because I didn't want to be different.
I started kindergarten on crutches and was teased a lot. I didn't mind the attention I got from the girls, though. They would be sympathetic and carry my books—I actually got in trouble for faking bleeds.
My brother and I had to ride a small bus because the school was afraid that we would be hurt if we rode on the regular bus with the other kids. This was hard on my brother and me because we felt separated from the other kids who made fun of us and bullied us for riding the same bus as the special needs students. Every Friday our bus driver took us for ice cream. You can't imagine our disappointment when we finally did get to go on the big bus and discovered that was the end of our Friday ice cream stops.
Growing up, my brother and I had to deal with bullies who would pick on us, but I tried to make light of everything and be positive, and I was pretty good at making things funny.
I had more trouble doing this in adolescence, though, when I had more issues with self-esteem. In fact, I stayed away from dating in high school because I was afraid to tell people I have hemophilia, especially when the stigma of AIDS emerged. It didn't help that I was infected with hepatitis C from contaminated treatment when I was 11 or 12.
...More
Tell us about your treatment journey.
My younger brother and I first went to camp when I was 11 and he was 10 years old. There were so few resources for kids with hemophilia at the time; it was great just having a chance to meet other kids with hemophilia.
I also learned how to self-infuse at camp, which was a really cool, empowering thing. Coming home with that skill gave me a sense of freedom I had never had before, because I didn't have to depend on waiting for other people to infuse me.
I've stayed involved in the community since camp. I take part in events such as the Hemophilia Foundation of Michigan's SpringFest and Lansing Day, where I go to the state capital to meet with legislators and lobby for hemophilia and educate anybody I can.
The Foundation is good at alerting the community when there's legislation that could pose problems. For example, a few years ago the state legislators tried to eliminate adults from coverage for factor. I grew up knowing what it's like to be without access to treatment, and I don't want that to happen to anybody.
When it became available, my doctor talked with me about prophylactic treatment with RIXUBIS. I like RIXUBIS because it works great for me. It has helped to decrease bleeds, and I like the small infusion volume. I also like that it is recombinant.
I meet with my Hemophilia Treatment Center, or HTC, treatment staff once every year, usually in the fall. It used to be an all-day visit, but it's been streamlined over the years and now takes about 2 hours. I'm on a first name basis with the staff. When I do get a bleed, I can call my HTC.
Before prophylactic treatment, no matter how careful I was, I averaged at least 1 bleed every 2 months. On RIXUBIS prophylactic treatment, I bleed less. I infuse once mid-week and once on the weekend and I mark infusion days on my calendar.
...More
What do you do to stay healthy?
I like being active. Exercise helps me feel good, control my weight, and strengthen the muscles around my joints. Hypertension runs in my family, and I was diagnosed with high blood pressure a few years ago. Exercise has helped me keep my blood pressure in check without having to take blood pressure medicine.
In the summer, I like to bike, hike, canoe, and go camping with my family; in the winter, our main family activity is shoveling snow. When I cannot be active outside, I try to exercise at least 3 times a week on my elliptical machine.
Diabetes and a little trouble with weight runs in my family, so I try to be careful to eat balanced meals and try to stay away from fried food and sugary drinks.
I haven't met many people with hemophilia B in the community. Even at camp when I was growing up, everything seemed to be geared around hemophilia A. As a guy with hemophilia B, I sometimes felt kind of left out.
But the public misunderstanding of hemophilia is as true for hemophilia A as for hemophilia B. I have sometimes been frustrated by how little people understand my activity restrictions.
...More
How did growing up with hemophilia B influence you as an adult?
As I matured and became more comfortable with myself, I stopped trying to hide my condition. When I started dating I was up front about having hemophilia. Sometimes it would turn people right off. My wife told me once that she was initially turned off by my hemophilia but thought about it and realized, "Well, I have problems too."
As I learned to take control of managing my condition, I learned to set my own boundaries and was able to learn for myself what I can and cannot do. I work with my hands, and I work with tools, and I get dirty, and I get hurt sometimes—but so do others. I have learned to be my own advocate. Most importantly, I have learned that having hemophilia does not have to be a barrier to living a busy, active life and being happy.
...More
Not all activities are appropriate for all people. Consult with your healthcare provider to determine which activities are appropriate for you.